The Belcher Island Kayak was collected in 1958 from Great Whale River where it was built by "Adlaykok" or Allaiquq. It appears as figure 46 in E.Y. Arima's Inuit Kayaks in Canada: A Review of Historical Records and Construction, Based Mainly on the Canadian Museum of Civilization's Collection
. Arima notes that it was likely built for demonstration, and that its 22-foot length and 29.5-inch beam would make for a good trade kayak between the Belcher Islands and mainland. He also notes that it's likely as much as a single paddler could handle by himself.
The condition of the kayak was rather poor when the lines were taken. The bottom was collapsed and the stern warped upward. Arima notes that this collapse and warping was corrected in the drawings. I further corrected what looked like warping to my eye in his drawings.
Linesplan
The Belcher Island kayak is definitely different looking that many modern kayaks. Here's the linesplans.

Belcher Island Kayak Plans Specifications
Design length 22.750 ft
Design beam 29.5 in
Design draught 0.400 ft
Length on waterline 19.397 ft
Beam on waterline 2.376 ft
Displacement 1000 lbs
Block coefficient 0.6885
Prismatic coefficient 0.5650
Waterplane coefficient 0.6549
Vert. prismatic coefficient 0.6509
Kayak and Canoe Building Books
I drew the plans for cedar strip building. If you plan on doing that, you'll need a book that will help you. These are the three to consider.
For more, check out my canoe and kayak building books review.
[half column title="Study Plans"]
The free kayak plans for the Belcher Island kayak are yours to examine for free. If you want to build a kayak from these free kayak plans, you can enlarge it and attempt a build. Other options are available as well.
Stem and Station Plans Example
This is what the stem and station plans looks like.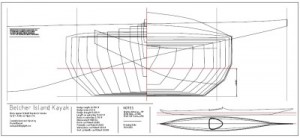 [/half column]
[half column title="Purchase Drawings"]
You can purchase electronic drawings of this kayak different formats. The first is a full-sized stem and station drawing, which is the same as the study plans, but full-sized. If you build a kayak from the study plans or the full-sized stem and station drawing, then you can pay a $30 donation license fee (the donation fee includes full-sized stem and station drawings for free), or you can buy Stem and Station Nestings, which includes the full-sized stem and station drawing and each station drawn individually and setback lines from 3/16-inch strips.
[/half column]
"SUBSCRIBE TO THE BLOG"
Receive an update straight to your inbox every time I publish a new article. Your email address will never be shared
Subscribe for Updates
Never miss a blog post again