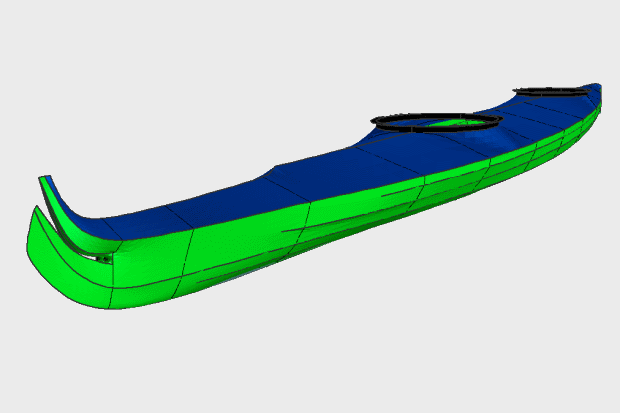 The Southern Alaskan Baidarka appears as figure 179 in Edwin Tapppan Adney and Howard I. Chapelle's The Bark Canoes and Skin Boat of North America. This is the only tandem kayak in the book, and the only known style of kayak that was built with more than one seating position — sometimes baidarkas had three. Chapelle notes that this kayak has the stern like the Kodiak kayaks but the hull and bifid bow of the better known Aleutian boats. The original boat in the Washington State Historical Society and Museum is damaged. John Heath took the lines in 1962 and corrected for the damage in his plans.
This by far was the hardest kayak to draw for my free kayak and canoe plan project. The numerous chines, two cockpits, the bifid bow and the odd deck shape compounded the problems. I put in about 10 hours of drawing time between Delftship and my CAD program, which wore on my nerves. The work I've put into this project is starting to wear on me, and I'm not sure why I decided to draw the hardest boat at a time when I'm overwhelmed with projects. I just hope someone will find this project helpful and buy me a beer for my efforts. Perhaps, I should have picked the easiest boat in Bark and Skin for this week. Anyway, I stayed true to Heath's drawings as much as possible, but varied a bit to fair a few lines. The baidarka's bifid bow was a major modeling challenge. I'm not sure how a cedar strip kayak builder would approach it. Perhaps carving it from a solid piece of wood is the best way. If that's the direction a builder took, he could carve the bow into any shape as long as the waterline section and the flare remained the same. I really want to build this kayak. I'd like to own a tandem kayak and this one looks fast, stable and like a major load hauler.
Specifications
Length: 19 feet 7 inches
Width: 29 inches
Draft: 6 inches
Displacement: 575 lbs.

Kayak Building Books
To build a kayak from the free plans, you need info on how to do it. Buy one of these three books to get started.
For a more in-depth list, check out my canoe and kayak building books review.
Sample Station and Stem Plans
Nesting Sample
Printed Drawings

Buy printed drawings that include the Station and Stem Plans and a full set of Nestings for $100. Comes printed on 24- by 36-inch paper.
Electronic Nestings

Buy a pdf of the electronic nestings for $30. You can print the file on 24- by 36-inch paper on your own.
Donate

If you build this kayak from the free plans, consider donating $30 for my time and effort. Any donations are appreciated. Whether or not you donate, please, send me a picture of your build–I'll add it to a builder's gallery.
Free Kayak Plans Downloads
"Subscribe to the blog"
Receive an update straight to your inbox every time we publish a new article. Your email address will never be shared