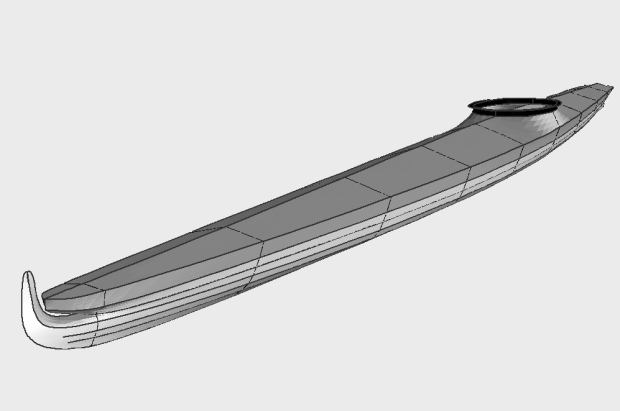 The Unalaska baidarka appears as Figure 178 in the Bark Canoes and Skin Boats of North America. Howard I. Chapelle, the author, writes that it represents the standard design used throughout the Aleutian Islands and on the mainland as far east as Prince William Sound. The Aleuts also used this style in the Pribilof Islands and at St. Matthew as a sealing kayak. Chapelle notes that the bow varied from the style used in this free plan, but he says that the body style remained the same. The Aleuts also built this kayak in two-cockpit and three-cockpit versions.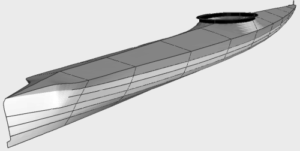 I had a hard long battle modeling this one. Like the last baidarka that I modeled for a set of plans, it took a ton of time. It didn't help that Chapelle's drawings don't exactly match, so I fudged a little and went with what my eye and the computer program told me was fair. I'm extremely pleased with how I drew the bow and stern. It took time, but it really looks like the baidarka that I built. I think this bow looks really cool and I'd love to paddle this kayak. I bet it's fast.
Specifications
Length: 17 feet 8.5 inches
Width: 20 inches
Draft: 4.8 inches
Displacement: 275 lbs.
Capacity: 140 to 325 lbs.
1894 Unalaska Baidarka Kayak Lines Plans
The lines plans show different station intervals than the pdf. Click on it to see a big version.

Kayak Building Books
To build a kayak from the free plans, you'll need instructions. These books are a good start.
For a more in-depth list, check out my canoe and kayak building books review.
Sample Station and Stem Plans
Nesting Sample
Printed Drawings

Buy printed drawings that include the Station and Stem Plans and a full set of Nestings for $100. Comes printed on 24- by 36-inch paper.
Electronic Nestings

Buy a pdf of the electronic nestings for $30. You can print the file on 24- by 36-inch paper on your own.
Donate

If you build this kayak from the free plans, consider donating $30 for my time and effort. Any donations are appreciated. Whether or not you donate, please, send me a picture of your build–I'll add it to a builder's gallery.
Free Kayak Plans Downloads
"Subscribe to the blog"
Receive an update straight to your inbox every time we publish a new article. Your email address will never be shared