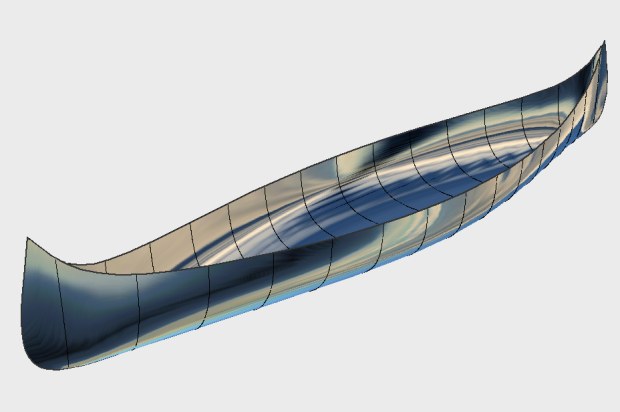 The St. Francis Canoe of About 1910 appears as Figure 81 in the Bark Canoes and Skin Boats of North America. Howard I. Chapelle notes that the canoe features a narrow, rockered bottom, and he notes that the model was popular with guides and sportsmen for forest travel. The almost vertical to slightly flared sides resemble a more modern canoe than some of the other free plans that I posted. Chapelle writes that some of the St. Francis canoes had midship tumblehome like the Malecite canoes, but that those were not marketed to sportsmen.
As my Winter Free Canoe and Kayak Plan project draws to an end, I feel like I'm finally gaining ground. With only six weeks left much of Bark and Skin remains unmodeled. The remaining kayaks are more complicated and harder to model than the last few, and lots of canoes remain. I'm torn, because I want someone to build the boats, but I also want to model some of the more — to my eye — bizarre boats, like the Beothuk canoe. If you have a suggestion, get it in.
On the donation front, I recently received a $50 donation and very nice letter via the post office. A few other visitors have pitched in a beer or coffee. I even got two six packs. I have about 75 hours into the project. I hope you find it valuable enough to send me cash. I appreciate it.
Specifications
Length: 15 feet 2 inches
Width: 36 inches
Depth: 13.5 inches
Capacity: 300 to 600 lbs.
Canoe Building Books
These plans don't include instructions. If you want that, pick up a canoe building book.
For a more, check out my review of canoe and kayak building books.
Sample Station and Stem Plans
Nesting Sample
Printed Drawings

Buy printed drawings that include the Station and Stem Plans and a full set of Nestings for $100. Comes printed on 24- by 36-inch paper.
Electronic Nestings

Buy a pdf of the electronic nestings for $30. You can print the file on 24- by 36-inch paper on your own.
Donate

If you build this canoe from the free plans, consider donating $30 for my time and effort. Any donations are appreciated. Whether or not you donate, please, send me a picture of your build–I'll add it to a builder's gallery.
Free Canoe Plans Downloads
See 1910 St. Francis Canoe Builder's Photos.
"Subscribe to the blog"
Receive an update straight to your inbox every time we publish a new article. Your email address will never be shared