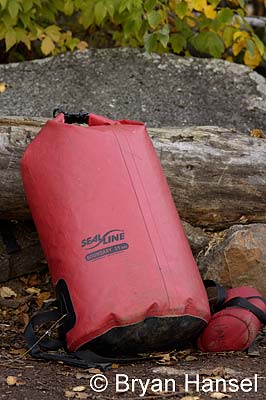 The challenge is simple: Come up with a gear system that fits inside a SealLine Boundary 35 Day Pack
which maintains a decent level of comfort and can handle a solo trip to an area like the Boundary Waters in late September or early October.
Why the 35 Day Challenge? Simple. The 35 Day Challenge is engineered to challenge your perceptions as what is possible when traveling by canoe. A small waterproof pack, like the Sealline 35 Day Pack can be used to carry everything you need for a backcountry trip. And you'll still be comfortable while doing it. The pure pleasure of reaching the other side of the portage without having to go back for a second trip and not feeling strained under a pack and canoe is more than worth giving it a try.
Rules
Must have a shelter, and sleep system.
Must have a cook system and water purifying system.
Must have clothing to cover temperatures from 32°F to 80°F. Must handle conditions from sun to rain, sleet, hail, and snow.
Must have a compass.
Must have 5 days and 4 nights of food. A menu is a must.
Must have a bear proof food storage system.
Must fit into a Sealline Boundary 35 Day pack.
You can assume the following: Your canoe is stocked with a seat pad, two 30 foot painters, two paddles (one bent, one straight), and a life vest.
Sample List
The following list is the gear that I used on an overnight trip on the Vern River Route in the Boundary Waters. I had planned on a two night trip, but decided to cut out early the second day. There was enough room in the pack for three more days of meals, but not much else. I also carried a tripod inside the 35HD pack which isn't included in the gear list below. My camera was carried separately in a Sealline 10HD. I carried a Nikon D70 and two lenses plus a couple of filters, memory cards, and an extra battery. When doing portages, I strapped both spare paddles into the canoe, threw the pack on my back, hoisted the 32 pound Bell Magic on my shoulders, and carried the 10HD in my hand. This made for fast single carry portages, which was a real plus while bush whacking and on the 240 rod portage.
This list itself is slightly heavy. There are several places where I could improve it, and these include a reduction in weight in clothing by probably a pound by upgrading to newer and lighter and warmer items. The shelter and bag system could also probably be reduced in weight. By switching to a lighter new and hightech tarp bivy sack system I could shave a pound off, and another half pound could come off of the bag. I went a little heavy in the kitchen also on this trip, because I didn't feel like using a pop can stove. All in all, I could probably easily drop 3 to 4 pounds out of my pack, and if I was really trying, I could drop it down to 8.5 to 9 pounds before consumables.
A few other items of interest are my canoe and paddles. I use a ZRE Lightweight Carbon Bent Shaft which comes in a 8.5 ounces, a wood paddle which is 1.5 pounds, my Bell Magic outfitted with the seatcover, painters and bungies is 32 pounds, and my lifevest is a Stohlquist Brik, which doesn't weigh very much at all.
All in all, this is a pretty plush and all around kit for early spring and late fall travel. In the above picture, you can see everything that I carried, except the camera and 10HD bag it was carried in. The picture below is a tarp set-up that I've been using lately. It's easy to set-up, weather proof, and only requires 4 stakes.
Clothing Worn
Marmot Dri-Clime Windshirt - 11 oz
Sierra Designs Ultra Pants – 11 oz
Terramar Body Sensor Tee - 5 oz
Thorlo Light Hikers – 3 oz
Steger Mocs 24.60 - 1 lb 9 oz
Tingley Rubber Overboots - 1 lb 8 oz
Outdoor Research 20th Anv Sun Ball Cap – 1 oz
Subtotal: 5 lb 1 oz
Other Items Worn / Carried
Brunton 7 – 1 oz
McKenzie Map - 2 oz
Whistle - 0.30oz
Subtotal: 4 oz
Other Clothing
Lifa Polypro Long bottoms - 5 oz
Marmot Dri-Clime Longsleave Zip Neck - 9 oz
TNF Fleece Vest - 10 oz
Swix Fleece Ski Hat - 1 oz
Fleece Campsocks - 3 oz
Black Thin Gloves - 2 oz
Marmot Precip Jacket - 12 oz
Marmot Precip Pant - 7 oz
Subtotal: 2 lb 10 oz
Sleep System
Tyvek House Wrap – One Person – 6 oz
Integral Designs SilTarp (8×10) - 1 lb 0 oz
GoLite Y – Stake 6 – 3 oz
Kelty Triptease Cord 25 - 1 oz
Mountian Smith Wisp - 1 lb 5 oz
Thermarest Prolite 3 – Short - 13 oz
Subtotal: 3 lb 12 oz
Packing
Sealline Boundary Day 35 HD - 2 lb 1 oz
Granite Gear Compression Sack - 5 oz
Granite Gear Air Bag #4 2 - 1 oz
Subtotal: 2 lb 7 oz
Cooking and Water
Platypus Water Bottle – 1L - 1 oz
Nalgene – 1 Quart - 6 oz
Outdoor Research Water Bottle Parka – 5 oz
MiniWorks w/tubes, sack, cleaning pad – 1 lb 2 oz
Markill Hot Shot – 8 oz
Snow Peak Giga Power 110g fuel canister (empty) – 4 oz
MSR Titanium Spoon – 1 oz
Snow Peak – 16 oz pot with lid – 5 oz
Bear Bag Rope – 50′ plus 'biner – 5 oz
Syderco Folder – 2 oz
Small Bic Ligher – 1 oz
Subtotal: 3 lb 6 oz
Other Essentials
Moleskine, G2, replacement ink – 2 oz
Paperback Book – 6 oz
First Aide Kit – Bryan Style – 9 oz
Assorted Toiletries, DermaGel, Tooth, Dr. B, Floss – 6 oz
TP – 4 oz
Princeton Tec Aurora – 1 oz
Subtotal: 1 lb 13 oz
Consumables
1 lb 8 oz (0.68 kg) / day ( * – from Menu ) 2.5 – 3 lb 12 oz
Quart – 2 lb 0 oz
Snow Peak Giga Power, 110g – 4 oz
Subtotal: 6 lb 0 oz
Summary
5 lb 5 oz (2.40 kg) 84.60 (1) Total Weight Worn or Carried
13 lb 15 oz (6.33 kg) 223.35 (2) Total Base Pack Weight
6 lb 0 oz (2.72 kg) 96.03 (3) Total Weight of Consumables
19 lb 15 oz (9.05 kg) 319.37 (4) Total Initial Pack Weight (2) + (3)
25 lb 4 oz (11.45 kg) 403.97 (5) Full Skin Out Weight (1) + (2) + (3)
"Subscribe to the blog"
Receive an update straight to your inbox every time we publish a new article. Your email address will never be shared