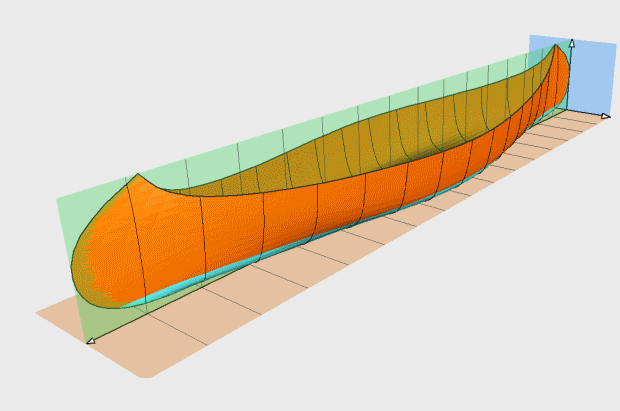 In the Bark Canoes and Skin Boats of North America, Howard Chapelle tells us that the most common type of Ojibway canoe northwest and west of Lake Superior was the "long-nose" form. The form shows a straight sheer, only slight rocker near the stems and a steeply upturned sheer near the stems. The stems were rounded and full. Chapelle seems to think that the combination features resulted in a clumsy and unfair looking canoe. He notes that the appearance didn't affect the seaworthiness or paddling qualities. Later, he writes that Adney, the person who collected the lines, thought the long-nose canoes originated with the Dakotas before the Cree and Ojibway pushed them further west. He thought that they adopted the Dakota long-nose models to their own building techniques.
I disagree with Chapelle. The lines don't seem unfair to my eye and in the three-quarters view shown above, the sheerline looks striking. I think this model, which Adney notes is a rice harvesting canoe, would make a great cabin canoe or weekend tripper. Its flat bottom would make the canoe stable and the high sides would allow for a large load. The canoe makes me want to get a wild rice harvesting permit and head off into the Boundary Waters, the area it was originally used in, to harvest rice.
Specifications
Length: 16 feet
Width: 34 inches
Capacity: 300 to 620 lbs.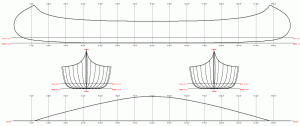 Canoe Building Books
If you want to build a cedar strip canoe from the Paddlinglight free canoe plans, pick up a canoe building instruction book.
For a more in-depth list, check out my canoe and kayak building books review.
Sample Station and Stem Plans
Nesting Sample
Printed Drawings

Buy printed drawings that include the Station and Stem Plans and a full set of Nestings for $100. Comes printed on 24- by 36-inch paper.
Electronic Nestings

Buy a pdf of the electronic nestings for $30. You can print the file on 24- by 36-inch paper on your own.
Donate

If you build this canoe from the free plans, consider donating $30 for my time and effort. Any donations are appreciated. Whether or not you donate, please, send me a picture of your build–I'll add it to a builder's gallery.
Free Canoe Plans Downloads
"Subscribe to the blog"
Receive an update straight to your inbox every time we publish a new article. Your email address will never be shared