The Siskiwit Bay is all-around, fast, mid-sized, British-style, touring kayak. This solid boat suits a medium to heavy paddler looking for good initial stability and lots of secondary stability. As the water gets rougher, this kayak feels more stable. It's a fast design slightly more efficient than most British kayaks in its class.
Length: 17 feet
Width: 21 inches
Volume: 12.325 cubic feet
Displacement and Sizing
This kayak was designed with a five inch waterline to carry: a boat built to 50 pounds, a 200 pound paddler, and 50-pound load. It accommodates paddlers ranging in weight from 140lbs (4.25″ waterline) to 240lbs (just under 6″ waterline). It can carry more than 50 pounds of gear, but why would you? See the Nessmuking articles.
The deck height 48″ forward the back of the cockpit is 11″ high, which will handle U.S. size 11+ feet vertically. The rear coaming height is 8.5″ with a recess and the front height is 12.75″.
If you want a more sporty sea kayak with less volume, consider the Siskiwit LV sea kayak plans.
Cockpit Placement
Ideally you want the longitudinal center of buoyancy of 7.903 from the stern to line up with your center of buoyancy. Or you can put the coaming of the cockpit 5 inches behind the longitudinal center of buoyancy.
Efficiency
These are the John Winter/KAPER numbers using Sea Kayaker Magazines stipulations.
Knots – Pounds of Resistance
2 – 0 .921
3 – 1.915
4 – 3.554
4.5 – 4.976
5 – 7.381
[half column title="Sample Station and Stem Plans"]
The free drawings comes with a combined station and stem plan. You can work from this if you only want to print out one piece of paper. Great for framing and placing in the boat house (garage). Sample below.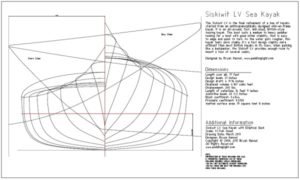 [/half column]
[half column title="Nesting Sample"]
These drawings come with multiple pages of nestings. Each station and stem is drawn separately. Use spray adhesive to fix the paper to your plywood before cutting out the forms. Nestings cost extra. Sample below.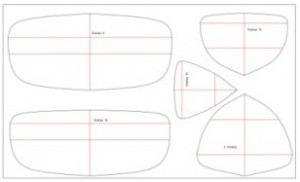 [/half column]
[half column title="Printed Drawings"]
No longer available. Contact me for info.
[/half column]
[half column title="Electronic Nestings"]
Buy a pdf of the electronic nestings for $30. You can print the file on 24- by 36-inch paper on your own.
[/half column]
[half column title="Donate"]
If you build this canoe from the free plans, consider donating $30 for my time and effort. Any donations are appreciated. Whether or not you donate, please, send me a picture of your build–I'll add it to a builder's gallery.
[/half column]
[half column title="Free Canoe Plans Downloads"]
The free cedar kayak plans come as an A1-sized pdf (free Adobe Reader required to view) that you can print off at photocopy stores.
[/half column]
Whether or not you donate, please, send me a picture of your build–I'll add it to the builder's gallery.
Drawings
The drawings are provided free of charge for personal non-commercial use. By clicking on the links below, you agree to use these drawings for personal non-commercial use to build one kayak for yourself and you agree you will not redistribute these drawings in any form electronic, paper, or otherwise. Any additional kayaks built must be approved. Any commercial use of these drawings is prohibited without permission from Bryan Hansel.
[download box title="Free Kayak Plan Downloads"]
It is your responsibility to determine the seaworthiness of this craft. These drawings come with no guarantees of safety or otherwise. You build at your own risk and when you paddle, you paddle at your own risk.
By clicking or saving these links, you agree to the above. Drawings (1-foot intervals) are provided as a:
Please, help me save bandwidth and thus money and only download the plans that you actually need.
[/download box]
Other Builder's Photos
Some builder's have been providing photos of their builds. Please, consider doing the same.
Recommended Books to Buy Before Building
Notes
The .dxf file can be printed over multiple sheets with QCad, an inexpensive CAD program with a free trial period. It's free for Mac and Linux users.
Note on sheerline: This kayak is designed so the deck and hull seamlessly join in one smooth curve. The offset file lists the height of the sheerline on each station. Build the deck above this point and the hull below.
"SUBSCRIBE TO THE BLOG"
Receive an update straight to your inbox every time I publish a new article. Your email address will never be shared
Subscribe for Updates
Never miss a blog post again