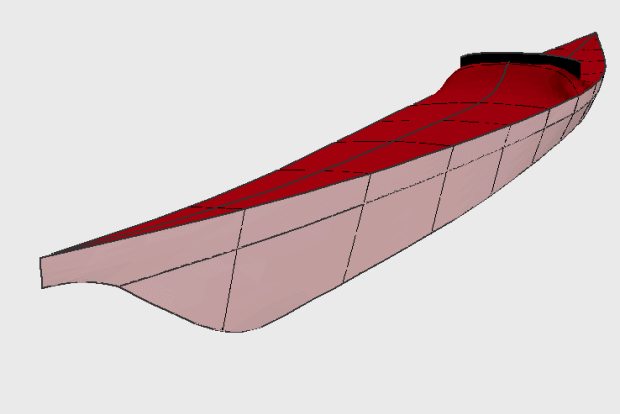 Mystic Seaport Museum's North Greenland kayak appears in Mark Starr's Building a Greenland Kayak. Starr notes that Admiral Byrd, an Arctic explorer collected the kayak. He thinks it might have been during the 1925 MacMillan expedition to northwest Greenland. This kayak is much different than other kayaks that I've drawn. It has a flat bottom, which results from the use of three-part ribs instead of a single bent rib. It's sides almost rise steeply from the chine to the sheer. The cockpit area looks like a bubble that rises high in a short distance. The turn of the rear stem seems subtle and almost non-existent. For a cedar strip kayak builder, I think there are real challenges in duplicating the look of the cockpit; cedar doesn't like to twist like that.
Specifications
Length: 19 feet
Width: 21-3/4 inches

Kayak and Canoe Building Books
Buy one of these books to learn how to build a boat from these free kayak plans.
For more, check out my canoe and kayak building books review.
Sample Station and Stem Plans
Nesting Sample
Printed Drawings

Buy printed drawings that include the Station and Stem Plans and a full set of Nestings for $100. Comes printed on 24- by 36-inch paper.
Electronic Nestings

Buy a pdf of the electronic nestings for $30. You can print the file on 24- by 36-inch paper on your own.
Donate

If you build this kayak from the free plans, consider donating $30 for my time and effort. Any donations are appreciated. Whether or not you donate, please, send me a picture of your build–I'll add it to a builder's gallery.
Free Kayak Plans Downloads
"Subscribe to the blog"
Receive an update straight to your inbox every time we publish a new article. Your email address will never be shared